Fake Chef Pranks Morning Talk Shows...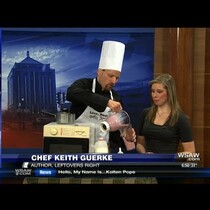 Posted March 3rd, 2014 @ 7:50pm
Chef Keith Guerke made five morning show appearances over the holidays in the midwest to promote his new cookbook . One problem, Keith isn't a real chef and his recipes were beyond unappetizing. Check out the hilarious results here...
Mashed Potato Ice Cream Cones with Corn Sprinkles? Ham, green bean and gravy smoothie? Apparently it's become pretty easy to get on a morning talk show these days.