Nick Jonas Sets Record Straight On If He And Priyanka Met The Royal Baby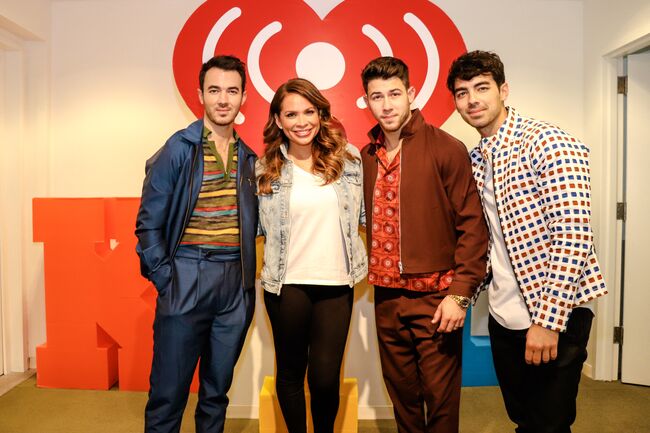 The Jonas Brothers came by the KTU studios to talk their new album "Happiness Begins," and documentary "Chasing Happiness." Watch their full interview with Carolina Bermudez below!
If you guys could collaborate with any current female artist ... Who would it be and why?
Joe: Well we're going on tour with one of those amazing artists Bebe Rexha would be would be a great artist to collaborate with... I feel like probably something's going to come out of the tour since we're gonna be spending so much time together and and to be able to maybe write a song or come up with something could be really interesting. I love love LOVE Lizzo with her "where the hell is my phone" song for a long time.. yea she's incredible.
We hear your wives are going on tour with you. Are you going to have "date nights" while on the road? 
Nick: We have to.
Kevin: Oh if we don't, we're in trouble.
Joe: That's what it is the cool thing is you look at it as a great opportunity not only to go on tour, but like we're in these incredible places and beautiful cities sometimes you need to freshen up and find a new thing or new place to go to. So yes to answer her question plenty of date nights.
Nick, there were some false reports that you and Priyanka had met Meghan and Harry's baby while in London .... any plans to meet the baby? Have you hung out with Meghan and Harry? 
Nick: Um I don't I don't know we're very busy and I'm sure that if the option presented itself that'd be great yeah yeah I'm glad I'm glad they put the record straight on that because these stories just kind of run wild and they can't be controlled but I think it's important to respect their privacy right now.
You guys do a lot of meet and greets with fans ... what's the craziest thing a fan has ever done!? 
Joe: The craziest thing fans have done personally, I'm after a show in Chile I walked into my hotel room I sat down I took most my clothes off sat in from the TV and 30 minutes in the curtain started moving and there was a fan behind the curtain and she's begging for photos and started taking some pictures and then I kind of I I might have squealed like and our security came our security came in the room and and quickly escorted her away but that's probably the craziest and most ballsy thing a fans ever done yeah.
You recently stole the night at the billboard awards, despite icons like Madonna and Mariah Carey being there ... did you get star-stuck with anyone at the show?
Joe: We felt like a lot of the artists that day were fantastic and personally I was pretty starstruck by BTS oh I'm so fascinated by it and by them and I looked over there pretty sitting pretty close and there's a photo online of me just like staring at them with like googly eyes.
Kevin: Mariah pulled up in a car and the rolled the window down to talk to somebody and I was just like oh I just pulled out my phone just you know took that picture I was like this is awesome.

Carolina In The Morning
Tune in every weekday from 6am-10am for Carolina In The Morning!
Read more