JLo Discusses ARod Wedding Planning In Midst Of Busy Schedule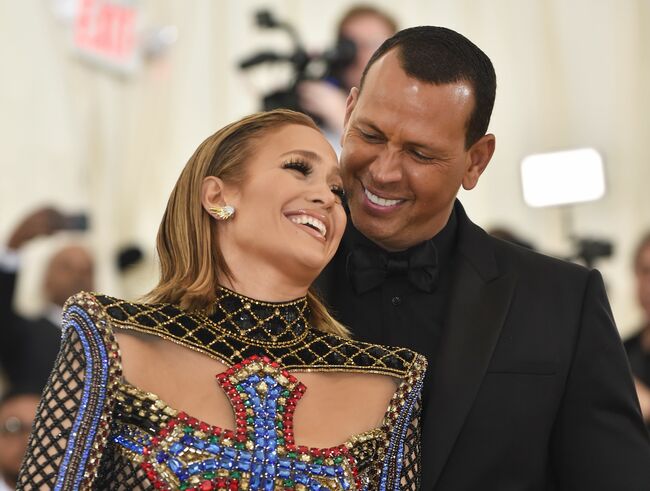 Jennifer Lopez aka JLo popped into the KTU studio today looking as fabulous as ever (peep the hoops). Cubby and Carolina were quick to get all the questions we know you have just been crying to get answered and luckily she had all of them for you! Before the interview airs tomorrow at 7:20am we decided to give you a little peek at what she's been up to. From her new song Medicine with French Montana, wedding plans to her movie "Hustlers" featuring Cardi B there is just so much to discuss!
Despite numerous reports about JLo and Arod's lavish wedding plans, Lopez says that the planning of the wedding hasn't even begun and NO date has been set. "We haven't started planning yet, you know, we just got engaged, and then right afterwards we started working right away and we're working the rest of the year so I don't know, I don't know what's going to happen. We haven't decided if we're going to squeeze it in somewhere of we're going to wait so you know..." JLo continues, "I really don't know yet, It's easy, I'm not lying right now."
Here are some more fan questions answered by the queen herself like details on her tour, dream movie co-stars and more!
You're going to be on tour most of the summer .... Will Alex and your kids be joining you on the road?
Yea of course, the kids will probably be with me the whole time. Alex has Sunday night baseball so he'll be in and out. He said 'I'm definitely at opening night, I'm definitely at closing night, in between we'll figure it out.'
You've starred in movies with everyone from Jane Fonda to Matthew Mconaughey....Who is the one actor that you dream of costarring with?
I think I think more about working with great directors, you know what I mean? I mean there's a few actors I love like Tom Hardy, Mark Ruffalo, like I love their acting, but uhh I think more directors like Scorsese or this person. You know what I mean? I would love one of their type of movies.
You're costarring with Cardi in your new movie hustlers ..... Will you be doing a dancing scene or performance together in the film?
Uhm I don't know about together but there will definitely be performances in the film. It's actually very scary for me. It's a nightmare thinking about being up there. I'm exposing myself let's say in a way, an emotionally and physically more than I've ever done in a movie. And I've done love scenes and this and that whatever but not like I was up there like that. And I take sexy pictures and all that kind of stuff, I've done videos that are very sexy, it's not that but this is a different mentality and so as an actress it's a scary... for me it's a not scary, it just makes me nervous.
You worked with Cardi on music... What's it like having her on a movie set?
She hasn't come to the set yet, she comes at the end of the month. Uhm so, I'm excited about that, that will be great. I worked with her only on a vide so we'll.. she was very focused, she was pregnant at the time so she was tired. I felt bad for her because I was on tour until I was 6 or 7 months pregnant so I know what that feels like but uhm we had a good time and I'm sure this... this is something she understands really well so uhm you know when we first spoke about doing the movie and I asked her about it I was like 'listen we're doing this movie blah blah' and she was like 'Oh my God yea, I do, I know this' and I was like 'I just want to pick your brain because you're going to know this material better than anybody else.' And we do have other people who've worked in the clubs as well in the movie so you know it's going to be hopefully a great story about these women and what they did and what they went through.
When are you going to Sunday Service with Kanye?!
Yea it looks like fun. I don't have any plans for that... we're on the east coast now for awhile
All this and more in a new interview with Cubby and Carolina! Watch a sneak peek below and look out for the full interview tomorrow at 7am on KTU.com

Carolina With Greg T In The Morning Show
Tune in every weekday from 6am-10am for Carolina With Greg T In The Morning Show!
Read more