Mariah Carey Reveals If There Will Be A "Glitter" Sequel
The wonderful, illuminating: Mariah Carey came to the KTU studios today to discuss the launch of her 15th studio album Caution. "It's a labor of love," Mariah says about the piece of art. Before the interview airs tomorrow we're going to give you a sneak peek! Here's what Mariah has to say about her time on NBC's The Voice, going on tour with her children and a potential sequel to Glitter?!
Everyone LOVED you on The Voice! Would you ever go back to TV full time again?
Hmmm. I loved doing The Voice. Everybody there was so great, I had the best time with Jennifer, J-Hud, and Kelly, basically everybody was great there. All the people that worked there, behind the scenes really tried to make it comfortable for the contestants and I enjoyed that - I really felt like I could sit back and enjoy their singing and enjoy their experience and just try and help in any little way. So I don't know if I would go back to it permanently but if I were to do it, it would be in that kind of environment.
Is it easier for you as a mom to be able to do the TV and also be at home with the kids?
I think it's having something when your staying in one place that's always easier, but they love traveling. We just got back from a tour of Asia and they had the best time. They came on stage with me, they went trick-or-treating, actually onstage too in their costume. We made dumplings together, they did all this kind of stuff that was getting involved with different cultures. I mean some people don't even get to leave the country till they're adults so they've seen so much of the world already and they learn while they're on the road. You know they study and they also go to children's museums. It's really cool, I think to myself 'I never knew this existed when I was growing up' but it's pretty exciting for them.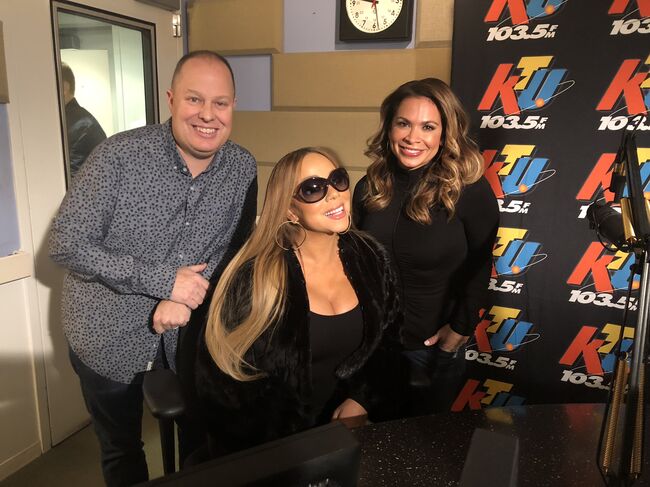 Your fans launched a campaign to make Glitter reach #1 on iTunes last week.. Would you consider a sequel to the movie?
Hahaha. Noooo. I mean look the fans... it was so exciting to see this hashtag #JusticeForGlitter movement actually happen and get the album to number one all this time later and I look at it just like 'this is a testament to my fans.' They are the absolute best, nobody comes close to them. The lambily. I would say definitely not a sequel, but some kind of interactive moment with the movie we've been talking about. It's fun... you never know what's going to happen.
Did you have a favorite song from the soundtrack?
I do - I.. I honestly really do like the soundtrack. I think the reason they started the hashtag #JusticeForGlitter movement was because I wasn't doing the songs in any of the show and um I would do a little bit in the medley of Loverboy umm and that was it. I think some of the ballads were really good and stuff like people didn't get a chance to hear it and it did come out on 9/11 2001 so we can't take that away from the fact that nothing was really happening at that point.
Will the twins come on the road with you?
We definitely have it down to a science. They have a great teacher uhm they want to do it, they love traveling. If ever they said 'we don't want to do it' we would figure something else out. But they're like 'When are we going on a tour bus again? When do we go on an airplane?' You stay some place for like a week and they're 'Mommy when are we going on the airplane?'
You can catch Mariah on the show tomorrow at 7:20am!

Cubby And Carolina In The Morning
Tune in every weekday from 6am-10am for The Cubby And Carolina In The Morning! Home of 'Carolina's Update' With Carolina Bermudez', Feel Good News and 'Battle of the Sexes'!
Read more