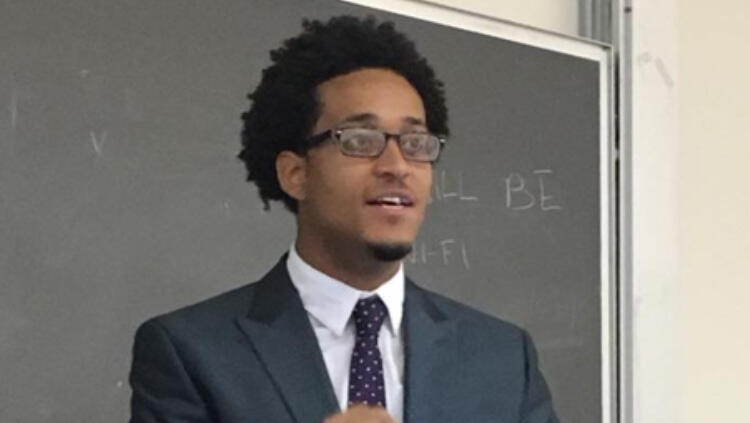 Subject: Social Studies, Bilingual, Special Education, 6-8 grade
School: CMSP 328
A brief bio including your school and subject area
My name is Edwin Oriol Doñe Tirado and I work at CMSP 328 in Washington Heights Manhattan. I teach 4 self-contained social studies classes to 6th, 7th and 8th graders social studies, 2 of which are bilingual. I also teach one ICT ELA class.
Why did you choose to become a teacher?
The experiences of the shortcomings of the department of education on my friends remind me everyday of why I became a teacher. Many of my friends from my childhood did not graduate high school. This was not a reflection of their ability or intelligence, but a reflection of a system that is inadequately prepared to respond students from low-income backgrounds, immigrant students or black and LatinX students.
As a teacher, what matters most to you at the end of the day?
As a special education teacher, what matters most to me at the end of the day is that my students' needs are provided. All students learn, demonstrate their learning and understanding differently, and have diverse experiences. I believe teachers must take this into account when trying to provide equitable education for ALL students.
As a bilingual educator, what matters most to me at the end of the day is that students learn how to learn to read, write and speak in manner that is authentic to them whether in English or their native language. Yet, that they are able to navigate spaces that require academic and professional speaking, reading or writing.
As a social studies teacher, what matters most to me at the end of the day is that students learn how to acquire, interpret, question and challenge information. In addition, it is important for students to learn history that is holistic and inclusive of the entire world from different perspectives, not just from the tradition Eurocentric perspective. Lastly, students must learn that history is not just what occurred in the past, but how these events and experience shape the present and the future.
As a culturally responsive educator, what matters most to me at the end of the day is that students culture is represented throughout the curriculum and that their is room to have knowledge from their homes and culture to be valuable in school.
What difference do you think being a male teacher of color makes in the lives of NYC youth?
I believe that students cannot be what they cannot see. Throughout my K-12 education, I did not see many educators who looked, or spoke liked me. I know first hand how that affected my perception of what I believed about certain demographic of people in comparison to others in education. With the overrepresentation of negative portrayals of Latinos and people of color in general, it is difficult for students to believe in their ability to thrive in academic spaces. Furthermore, male teachers of color are able to relate better in most cases to younger male students. Due to inner city issues such as the school to prison pipeline, countless teens grow up with out positive male role models. Men of color in the classroom can drastically affect student's belief in themselves.
What would you say to men of color who are thinking about becoming teachers but have not yet made the decision?
Teaching is extremely difficult. However, if education is something you are considering, your role is vital in educating the next generation. More men of color are needed in the classroom urgently. Education can save lives, and representation is important. The more male educators of color in the classroom the better chance our students of color have towards a better life.