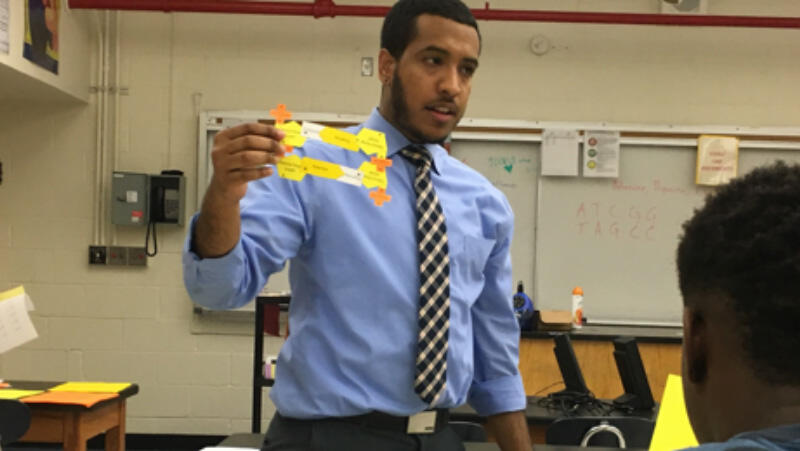 Josh Modeste is a second year high school science teacher at the Urban Assembly School for Global Commerce in East Harlem. Born and raised in the Bronx, Josh attended NYC public schools and in graduated from SUNY Plattsburgh in 2016 with a bachelors in Biology and a Masters in Education. Josh is currently an Anchor Teacher for NYC Men Teach and is grateful for the support and mentorship the program has provided him in his first year. Josh is also a proud member of Phi Iota Alpha Fraternity and uses the ideals of Pan-Americanism to create a welcoming and safe environment in his classroom.
Josh does his best to show his students that they can be themselves and also be successful. He encourages them to be curious and advocate for themselves. His goal is to make research and other scientific fields more accessible to his students through trips, speakers and hands on experiences.This past summer Josh conducted Stem Cell Research through Columbia University and The New York Stem Cell Foundation and is excited to use this experience to continue engaging students in the fields of Science, Technology, Engineering and Math.
Why did you choose to become a teacher?
I decided I wanted to become a teacher during my senior year of high school. I noticed how hard my AP Calculus teacher worked to make sure we were confident to take the exam. She genuinely cared for her students and not only helped us to learn math, but also had real conversations with us about what it means to be a person of color in NYC. I wanted to pay it forward and provide the same opportunities for students who are just like me.
As a teacher, what matters most to you at the end of the day?
At the end of the day, my goal is to build an inclusive community and make STEM careers interesting and accessible to students. Many of our students take the world around them for granted and I encourage them to stay curious and constantly observe and investigate. These fields have a disproportionately low amount of people of color which can be discouraging to many of our students. I feel that it is important to give students an authentic context for science as well as to show them that there are many influential scientists of color, and that they can also make a positive impact of the world through STEM.
What difference do you think being a male teacher of color makes in the lives of NYC youth?
By looking like and coming from the same community as my students, it helps me relate to my students better and serve as a source of motivation. When students feel comfortable in an academic setting it can allow them to put their guards down and engage in the material much more authentically, showing them that they can make it too. I also serve as a male role model to students who may not have that opportunity in other classrooms or even at home. This role can be very powerful in helping teenagers navigate around difficult situations of life.
What would you say to men of color who are thinking about becoming teachers but have not yet made the decision?
Our kids need and deserve more men of color in the classroom. We can provide familiarity to a student who may seem disinterested with school. Sometimes being the only positive male figure in a student's life can truly impact their perception of education and encourage them that they too can "make it out". The job can be very personal and exhausting at times, but the impact that you make on a student's life is forever and the rewards and possibilities of that are endless.