Things To Do In NYC This Valentine's Day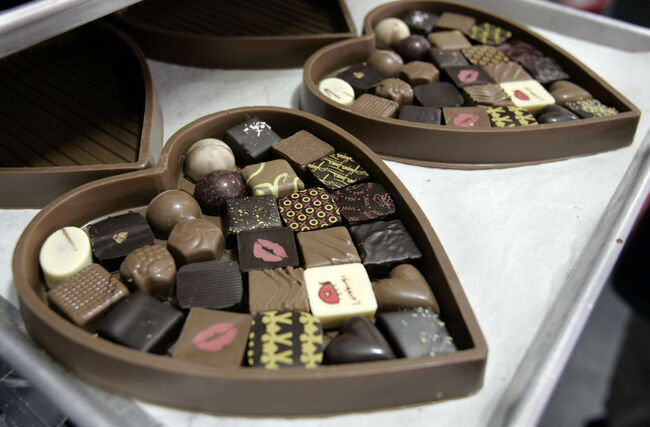 With Valentine's Day right around the corner (it's next week OMG!!!!!) I was wondering what cool events were going on around New York City and came across this great list from Time Out New York!
Here are a few events that stood out to me and look pretty cool:
Watch couples showcase their love at Duffy Square on the great red steps with live surprise proposals, wedding ceremonies and vow renewals. And keep a lookout for the new heart sculpture design by Aranda/Lash and Marcelo Coelho called Window to the Heart.
Then kicking off this Friday there's:
Looking to impress bae with dinner and a movie on V-day? Yeah, it's the most cliché date idea in the book. But at Nitehawk—Williamsburg's epic dine-in movie theatre—you can grab cocktails, a delicious meal and catch a flick without ever leaving the premises. For the month of February, the popular haunt is screening classic and cult-favorite films including powerful themes such as infatuation, lust, love, sex—y'know, the stuff that makes people go nuts.
There's also the matter of gifts! For those of you who have a S.O. (significant other), what's an appropriate amount to spend? And do you have any cool, clever ideas?
For my single folks, I didn't forget about you. Time Out also listed this great event that happens on Friday:
Find a match IRL at this Valentine's Day event hosted by ladies-first dating app Bumble. Show off your skils in the ping pong competition, sip complimentary custom cocktails, play crowd games and get temporary tattoos from TATTLY, all while flirting with three-dimensional cuties. Ping pong winners get free drinks for the night, so you'll want to bring your A game in more ways than one.
That sounds pretty legit.
For my couples who don't care about shelling out some cash (all in the name of love, right??)
There's always -
Valentine's Day Dinner: Love Potion Number 9

The aphrodisiac-centric cooking class at Spice Social Kitchen and Table takes your Valentine's Day date from the kitchen to the bedroom. Spend three-hours cooking a romantic meal of herb-marinated filet mignon, pan-seared shrimp with white wine sauce, garlic-roasted asparagus, chocolate-covered strawberries and more, then wait and see how the aphrodisiacs affect the rest of your evening. $350 per couple
For my fun-loving couples just looking to have a good time, I saw this event listed on events12.com:
The Amazing Valentine's Day Scavenger Hunt begins at Slattery's Midtown Pub, and then you follow a series of clues around the city performing physical and mental challenges.
I LOVE games... this might just be the one I check out. It kicks off Sunday at 1:30pm - click the link for more info.
For the 'I hate people but love dogs' peeps out there I can't think of a better way to celebrate before Valentine's than with the Westminster Kennel Club Dog Show (Feb 12th and 13th)!
Westminster Kennel Club Dog Show

has daytime events at Piers 92/94, with evening events including best-in-show at Madison Square Garden.
Will you be taking advantage of any of these events or just having a Netflix & Chill kind of evening? Sometimes the best times are spent in a low-key kind of way... with a romantic home-cooked dinner... Let me know what your plans are @wendywildradio on Instagram.
Xx,
w

Wendy Wild
Listen to Wendy Wild weekdays on The Beat Of New York, weekdays from 10am - 3pm
Read more